Badumna insignis (L.Koch,1872)[Japanese name : Kurogakejigumo]
was found in Nara pref., Japan in 1977.
Aug.13,1998. M.Sekine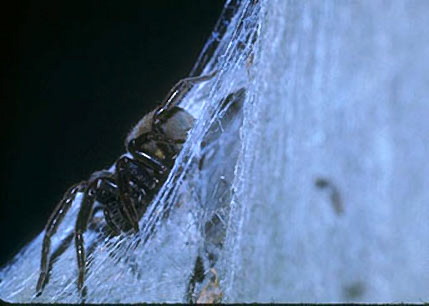 Black house spider (Kurogakejigumo) was found by M. Sekine at Ikaruga-cho, Sango-cho, Oji-cho, and Heguri-cho, Nara pref., Japan in 1977. In 1963, Kurogakejigumo was found in Fuse City, Osaka pref. and Male was found in Matsubara City, Osaka pref. in 1972. Dr.T.Yaginuma described Ixeutics robustus (synonym of Badumna insignis) in 1974. This spider is a common and widespread species both in Australia and New Zealand. Maybe black house spider had come into Japan by accident from Australian region.


In 1976, Kurogakejigumo was discovered by a student in Susami-cho, Wakayama pref., Japan. The dark, almost black, coloration, thicker hair covering the legs enables B.insignis to be separated from other species in the field. This species was discovered in the north area of Tajima, Hyogo pref. in 1988. And recently, this species was found in the Tokai area - in Mie pref., Aichi pref. and Shizuoka pref., Japan.
Distribution : Australia, New Zealand, Japan (Osaka, Wakayama, Nara, Hyogo, Mie, Aichi, Shizuoka)
See also: The distribution of Badumna insignis (Araneae: Desidae) in Nara Prefecture: Thirty-six years on. Kumo no Ito, 47:29-33. 2014. [pdf file]