Not A Cockfight But A Spider-Fight: Kajiki
Jun. 19,2002. M.Sekine
Having finished a day's work, I hurried to Osaka airport to take a flight for Kagoshima to watch the spider-fight. On Sunday Jun. 16, 2002, the Kumo Gassen was held in Kajiki town, central Kagoshima Pref., Kyusyu Island in Japan.


The Kumo Gassen, an annual traditional event in Kajiki town, is a spider-wrestling match. This event has long and an unbroken tradition of four hundred and nine years. Both children and adults in and around Kajiki, have searched for stronger spiders, and have made preparations for many days for the spider-fight. Spiders are raised carefully. The owner feeds a spider. Feed is an insect, such as a grasshopper or a beetle. And sometimes the owner sprays Shochu or distilled liquor on his spider to stimulate it, and encourages it as well; or he injects a vitamin pill solution into the beetle that falls prey to the spider.


About four hundred spiders and three thousand audience were collected there. And, the event went on and on for seven long hours. Two spiders are placed on a stick, where they try to push each other off in a battle for the territory. Also, a Spider-Beauty-Contest is held at the same time. All the spiders entered in the event are female Black and Yellow Argiopes.


Many people gather there, from spider-maniacs like myself to the local people who have just come to watch. The excitement in Kajiki town mounted to fever pitch all day long. And, this event brings the same amount of excitement to all the people gathered there, as in the 2002 FIFA World Cup Korea/Japan. And, let's face it; the tradition of this Kumo Gassen is a lot longer than FIFA's. That's for sure!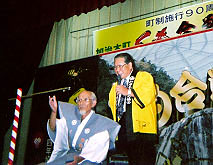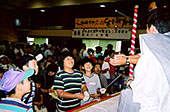 See also: Wikipedia and WikiPilipinas