in autumn
Arachnura logio (araneidae) [Japanese name : kijiro o-hiki-gumo]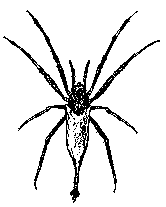 The spider inhabits needle-leaf groves and coppices. The spider weaves
an orb web, to the base of the branch of a tree. There is not weft in
one part of the web. The spider spends its time in the hub of its web.
This spider looks like a scorpion.
It is thought that A.logio emits a pheromone.
The length is 25-28 mm.
It is found on four main islands in Japan - namely, Honshu, Shikoku,
Kyushu, and Okinawa.