in all seasons
Pardosa astrigera (Lycosidae) [Japanese name : uduki komori-gumo]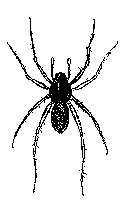 It's a wolf spider. The wolf spiders are swift hunters, living on the
ground.
They drag their egg sacs behind them. These look like white balls and are
attached to the spinnerets. When the young hatch, they climb upon the back
of the mother and stay there until they are able to provide for themselves.
The length is 7-10 mm.
It is found throughout Japan.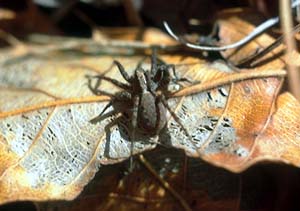 [ Top Page | Using This Page | List of Spiders | Japanese names of Spiders ]