in spring, and in early summer
Cyclosa sedeculata (Araneidae) [Japanese name : yotsude gomi-gumo]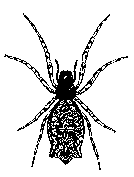 The web is attached to waste products e.g. scraps, excuvia, etc.
Sometimes the young weave the spider's orb web with spiral stabilimentum,
or a band of a white thread.
The length is 4- 5mm.
It is found on four main islands in Japan - namely, Honshu, Shikoku,
Kyushu, and Okinawa.