in spring, and in early summer
Cyclosa atrata (Araneidae) [Japanese name : karasu gomi-gumo]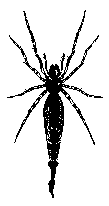 The spider weaves an orb web on the lower part of grass.
It's black in color, and long-tailed. It is lies sideways in the hub of the web.
The spiders are seen ordinarily on the roadside of woodland paths.
The length is 10-12 mm.
It is found on the four main islands of Japan - namely, Hokkaido, Honshu,
Shikoku, and Kyushu.