in all seasons
Uroctea compactilis (Urocteidae) [Japanese name : hirata-gumo]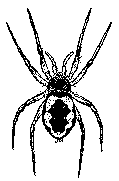 The spider makes a home like a white disk in the corner of the wall of a
house.
The single strands of silk go out from the spider's home.
When an insect touches it, the spider dashes out from its home.
The spider carries its prey back home, eats the prey at home, and then
attaches the dregs onto the home.
If you peel off the thread of the home, you can see the spider.
The length is 8-10 mm.
It is found throughout Japan.