in spring, and in early summer
Ariamnes cylindrogaster (Theridiidae) [Japanese name : onaga-gumo]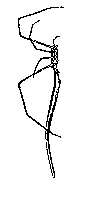 It weaves several strands of silk towards the branches of a tree.
The spider is green in color and elongated, and imitates the foliage of a pine
tree.
This spider catches other spiders, and eats them.
The length is 25-30 mm.
It is found on four main islands in Japan - namely, Honshu, Shikoku, Kyushu,
and Okinawa.